This week I am going to tell you a bit about what it felt like to get cut making a sandwich. It hurt. It hurt a lot. I cried, and I at first, was worried what people would think about getting sent home on a sandwich. Then I went out to eat at the most amazing store / restaurant / mecca — Eataly. My mom and I talked about the entire time so far in NY. We laughed (a lot). We cried (her more than me — moms do that). We ate I had shortribs with pasta — but I ordered it for sentimental reasons. The name was "Tagliatelle pasta with Shortribs and Parmigiano Reggiano." The pasta I used with Faaaaaabio was Tagliatelle 🙂 (it's not the most common shape pasta out there) and I LOVE to make short ribs for my dad. They're his favorite food – next to Parmigiano Reggiano. After lunch we watched a million movies at the hotel (well, 3) and waited to hear who else made the finale. I was excited and nervous at the same time for my friends.
I thought over and over in my head what could I have done differently in my "Sandwich Challenge" – the answer. Nothing. I was given 20 minutes to make a French inspired Ham and Cheese Sandwich. Of course I was going to make a Croque Monsier. It's a classic. It's famous. It's perfect. …and it takes time. Time I really didn't have… but, I was known on the show for taking risks and for breaking the time barrier. (remember the Boeuf Bourguignon from episode 4?) Well this week I needed to make a ham and cheese sandwich and doing so with a French Inspiration of course means creating a Croque Monsier. The key to a great Croque Monsier is a good bachamel sauce. (which Jeff Mauro said I did a nice job of doing._ Once I master the sandwich — you know I will Jeff 😉 — I will post a recipe for it. Until then, here's two links to help you out. One is for bachemel sauce. It takes time — lots of time, but knowing how to make a great bachamel is important, and if nothing else from Episode 5, I'm REALLY proud of my sauce on the show. Knowing one of the 5 French Mother Sauces will carry me forever. Here's a recipe to help you learn how to make one.
http://www.foodnetwork.com/recipes/mario-batali/bechamel-sauce-recipe.html
The next link is for Croque Monsier. http://www.bonappetit.com/recipe/croque-monsieur
Until I've mastered mine (and figured out how to do it in 20 minutes) I will post for you what I would have made had gotten to make any sandwich with a French inspiration. Here's one of my favorites!
I hope you like it. I hope it proves I really can be the Sandwich Queen. 🙂
Filet Mignon Sandwich – Recipe from Sabrina Richard 20 minutes
2 Filet Mignon
1 pkg Boursin Cheese
Salt
Pepper
Arugula
Mushrooms (baby portabella and white) sliced
2 tablespoons butter
fresh loaf of French Bread – sliced lengthwize
EVOO
Season all sides of the filet with salt and pepper to taste.
Place butter in skillet on high heat and melt.
Place filets in pan for 2 minutes each side.
Put 1 teaspoon of EVOO in another pan and brown the mushrooms. Add salt and pepper to taste. To quote Julia Child – "don't crowd the mushrooms" (otherwise they won't brown properly). Once browned, remove from pan into a bowl.
Once the filets are sizzling on both sides, place the entire skillet in a preheated oven at 400 degrees for 5 minutes.
In the same oven, place the French Bread open faced in the oven drizzled with olive oil (to warm for 3-4 minutes).
Wilt arugula in the same pan the mushrooms were in by using 2-3 tablespoons of EVOO, salt and pepper to taste and covering with lid for 2-3 minutes. Remove from heat.
Once the bread is warm, construct the sandwich while the meat rests:
Spread the boursin on both sides of the French Bread loaf
Place wilted arulgula on the bottom
Add mushrooms
Slice the filet (at a 45-degree angle)
Top with the other side of the bread
Bon Appetit!
Here's a photo of me enjoying it with local Indy ABC News Anchor Lauren Casey (Indy RTV6) 🙂 and a video of when she came to my house and we cooked together.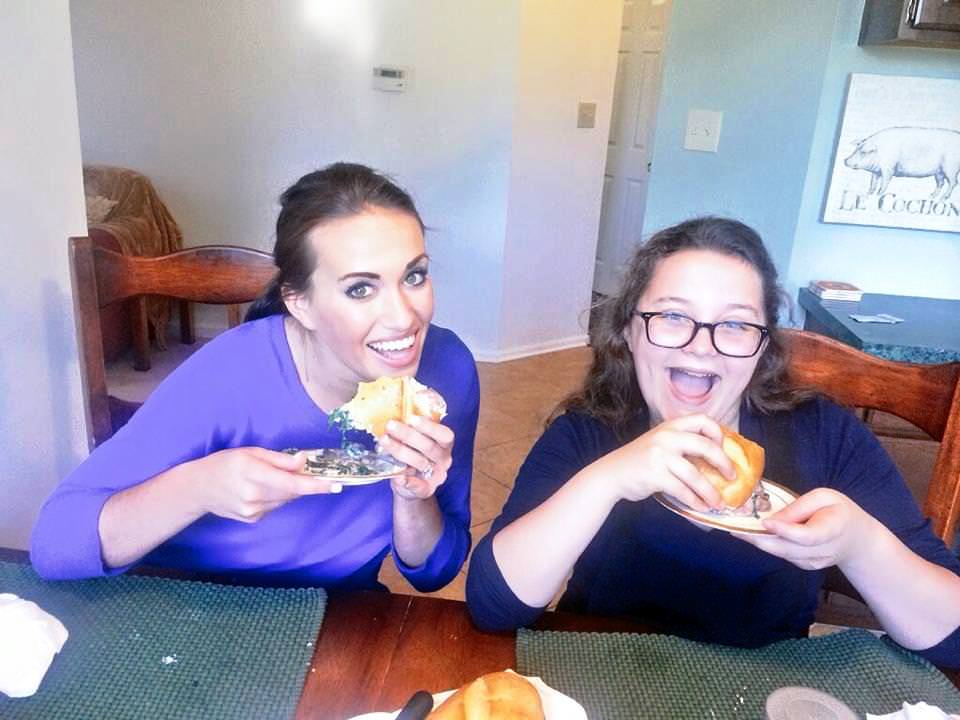 http://www.theindychannel.com/news/local-news/indanapolis-girl-to-be-on-food-network-challenge