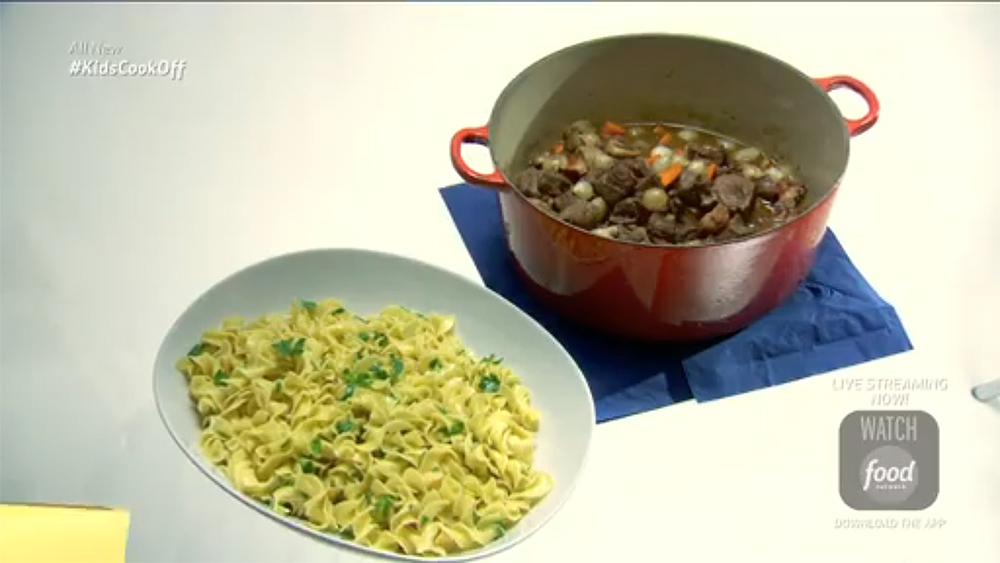 Each week I will post #FrenchFriday and feature a French inspired dish.  On Monday's episode of Rachael Ray's Kids Cook-Off Rachael's the guest judge was Sunny Anderson.  She challenged us to cook the dish that inspired our entire culinary future.  For me, there was no question about what I was going to cook.  The only question was, how was I going to pull it off?!  Viewers of Kids Cook-Off know I LOVE Julia Child, and I first fell in love with her because of the movie "Julie & Julia."
In the movie I learned that the first recipe that Knopf editor Judith Jones tried from Julia Child's manuscript was Boeuf Bourguignon.  It's her most iconic recipe.  It also takes about 6 hours.  Who has that kind of time? I'm 11, I go to school.  I'm a Girl Scout.  I work at a museum.  I don't have 6 hours. I don't have a Le Creuset dutch oven (yet) and – oh Sunny only gave us 60 minutes.
The first time Julia made this recipe on television was February 11, 1963 on the PBS show "The French Chef." — my birthday is February 11.  (see – I was born to make this dish!)

Well, with only 60 minutes, I had to take the essence of Boeuf Bourguignon and channel my inner Julia.  Rachael even told me she was nervous about it, but we talked about things and my number 1 idea was to not use "chuck" as Julia does.  (because it's tougher) I needed to use filet mignon in my "Quick Boeuf Bourguignon." Rachael liked my idea and liked my idea of using pearl onions instead. Phew!  🙂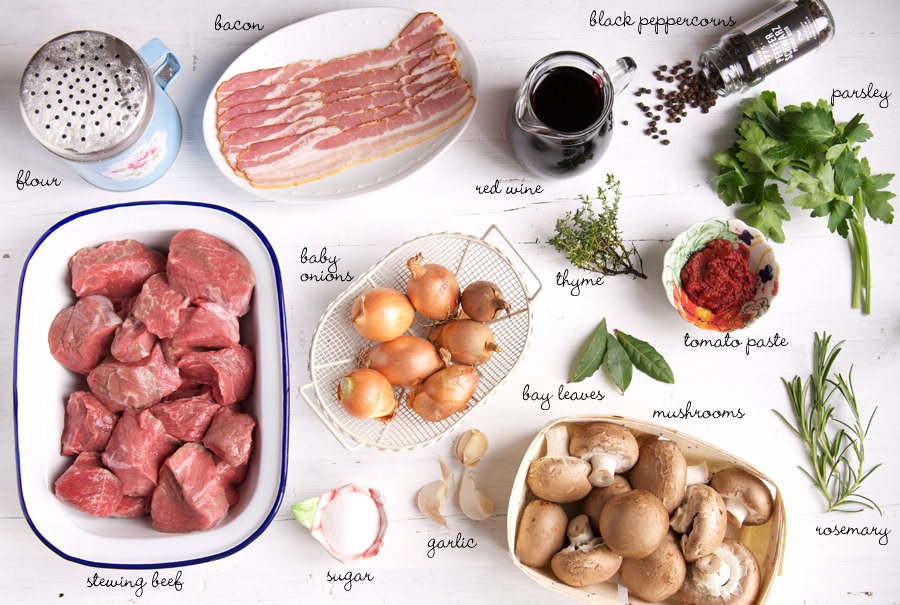 Then I carefully layered each flavor from the dish.  The beef, the bacon, the vegetables and the bouquet of herbs and built the richness of the stew to create the classic French dish to honor Julia and my culinary dream.  During the show I talked to the food, I talked to the camera and I talked like Juuuulia.  I leaned that doing all of these things helped me to relax and really helped to make me a better cook.  (hey, whatever works!)  Sunny and Rachael were actually laughing and I'm ok with that.  (were they laughing with me or at me?!?) 😉
I'm really proud of my dish and I hope Julia would be too.  I loved cooking in the Le Creuset they had on set (boy did I want to pack that beauty in my suitcase!) and I hope you'll enjoy cooking this dish with your family as much as I enjoyed cooking it for my TV family of Rachael, Sunny, Juliana, Chris, Scarlett, Chandler, their parents, and my mom.
This episode was my favorite to film!  I loved our guest judge, I loved the food and I felt really relaxed in the kitchen and everything was just "right."  Here's a link with a few clips from the episode including the dish that changed my life — in so many ways!  🙂

Recipe:
"Quick Boeuf Bourguignon." – Sabrina 60 minutes
6 1″ thick filet mignon steaks cut into cubes (salt and pepper each cube)
salt
pepper
butter (1/2 cup – divided)
Carrots cut diagonally into 1″ pieces
Bacon
1 cup frozen pearl onions, defrosted
10 mushrooms thinly sliced
4 tablespoons butter
3 tablespoons flour
EVOO
a bouquet bundle of 3 thyme sprigs, 3 sage sprigs and in honor of my grandmother 1 spring of rosemary tied with a string. (so I can pull it out later)
1 1/2 cups beef stock
1 cup dark red wine like pinor noir
Side Dish
egg noodles
butter (3-4 tablespoons)
fresh parsley
Render the bacon in pan with butter- 3 tablespoons)
Dry the beef cubes with paper towels and then sprinkle them with salt and pepper. In batches in single layers, sear the beef in EVOO and 1 tablespoon butter for 2-3 minutes, turning to brown on all sides.
Remove the seared cubes to the plate with the bacon and continue searing until all the beef is browned. Set aside
Add the remaining butter to the pan
Saute the mushrooms with salt and pepper in the bacon grease (remember Juuuulia's most famous tip "Don't crowd the mushrooms, otherwise they won't brown properly.")
Add Carrots and Onion for 2 to 3 minutes.
Remove the vegetables from the pan and place on a plate.
Add flour to the pan and stir — once melted add browned filet pieces
Add wine and stir slowly
When the wine comes up to a bubble scrape up the pan drippings, add stock and herb bouquet to the pot and cover.
When the liquid boils again, reduce heat to medium (taste).
Cook covered 5 minutes, remove the lid, add back in the mushrooms, carrots,  onions and bacon back to the pot.
Simmer without the lid, taste and remove the herb bundle.
During this final step, prepare in salted water egg noodles according to package directions.  Stir together with butter (3-4 tablespoons) and fresh parsley. Serve in large bowl.
Serve Boeuf Bourguignon directly from dutch oven
Bon Appetit!