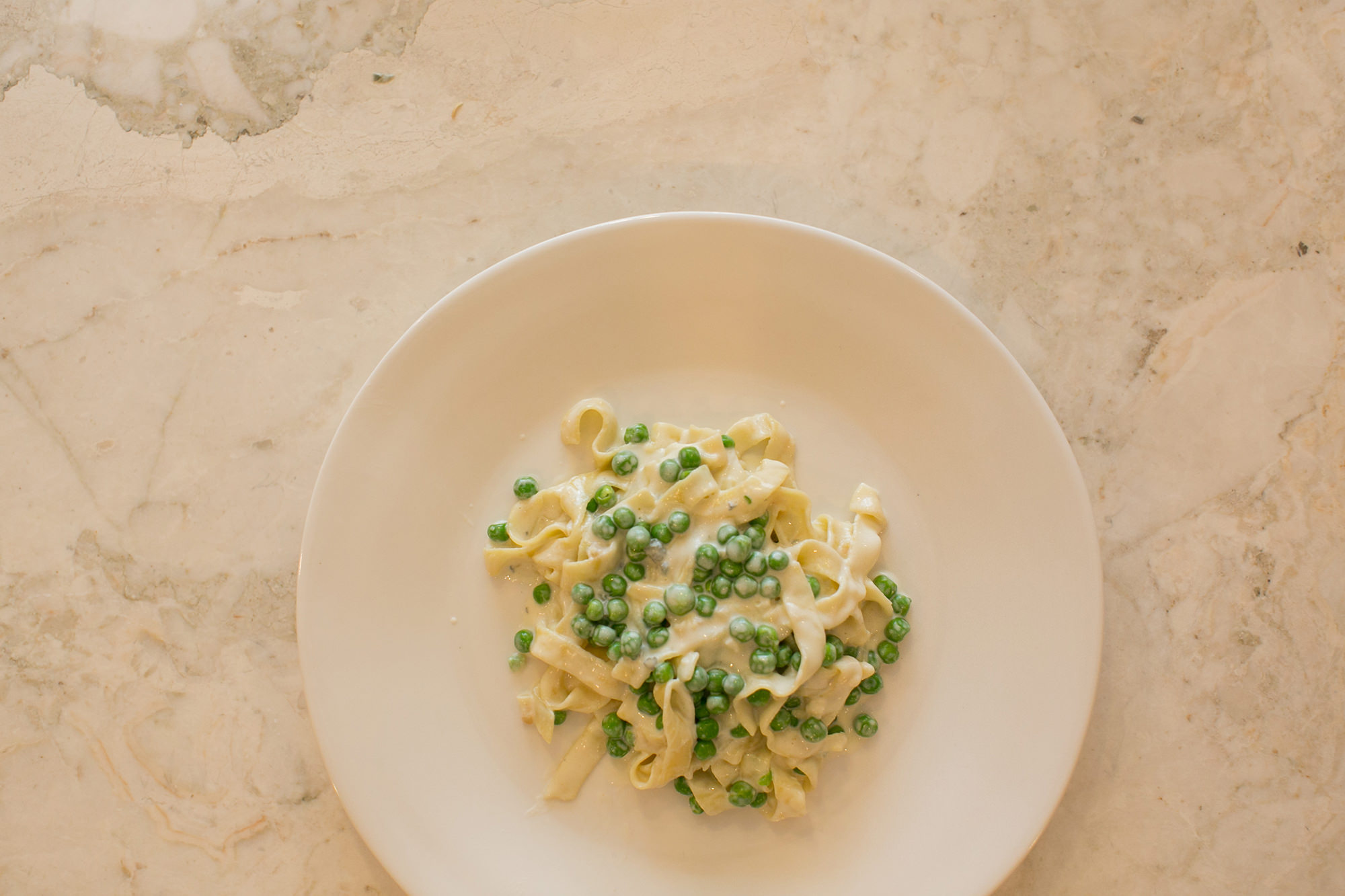 Here's my 5 ingredient pasta from the 3rd episode of Rachael Ray's Kids Cook-Off on Food Network.  In this episode Fabio Viviani taught us that Pasta best shines with simple sauce that typically only has 5 ingredients. Rachael then gave us 20 minutes and only 5 ingredients to make our best pasta from our culinary point of view.  French Pasta – here we go!
Paille et de Foin (Straw & Hay Pasta)
(5 ingredient pasta – 20 minute pasta. Rachael said the pasta, salt and pepper did not count)
Kosher Salt
1 ½ teaspoons freshly ground pepper
8-10 ounces Tagliatelle Pasta
3 Tablespoons unsalted butter, divided
4 ounces French Roquefort Cheese
2 cups Frozen Peas – thawed
1 ½ cups Heavy Cream
Truffle
(sometimes these are hard to find – Each Monday night during the show I have a party.  For my party, I didn't have one, as photographed – if you can't find in your town, do not worry – Julia says "never apologize, no excuses" – this is a perfect example!)
Steps:
Fill large pot with water – add 1 tablespoon of salt, bring to boil. (Rachael taught us "your water should taste like the the sea.")
Meanwhile – melt butter in large (12") sauté pan over medium heat. Add the cream, Roquefort, 1 ½ teaspoons salt and pepper and bring the sauce to a boil.
Lower the heat and let simmer for 5 minutes until thickened.
Turn down the heat to med low.
Add the Peas. (On the show I didn't have enough time to give my peas a "pea hot tub" as Rachael called it — you will not be on the clock and you'll be just fine!) 😉
Add pasta to boiling water and cook according to package directions.
Reserve 1 cup of pasta water and drain the pasta, allowing some of the water to remain. (Rachael taught us this is called "Magic Water")
Add the drained pasta in the pan with the sauce.
Toss well. If the pasta seems dry, add some of the pasta Magic water.
Taste for seasoning and add a touch of Roquefort if necessary.
If you have a truffle – shave over the top.
Bon Appetit! It's a winner – if you have enough time 😉
 
(This plate was one of the 16 I made for my viewing party and photographed by Jennifer Driscoll Photography – Merci!)