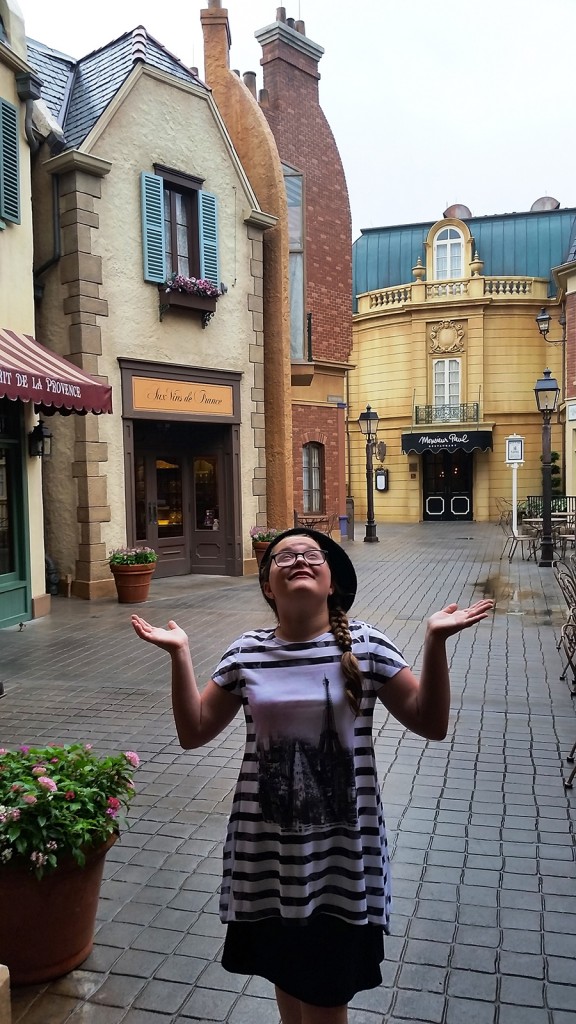 It's not a secret I love France. I love everything about it. I love the food, I love the music, I love the culture and from the moment I met the cast members in Epcot (who all are from France) I knew I loved the people. In France they kiss on both cheeks when they meet. I'm a Francophile. (I didn't know this word until my Godmother told me while we were in Epcot, but yes, I'm a Francophile – "A Francophile is a person who has a strong affinity towards the French language, French history, French culture or French people." And I'm proud of it.)
When my family and I went to Disney for a week and during that time I spent 3 days in Epcot for the annual Food and Wine Festival the time I spent in the France Pavilion I felt perfectly at home. I knew I belonged there. I have no doubt someday I will go to France. Whether or not I get back on the plane to come home is yet to be determined 🙂 I love it!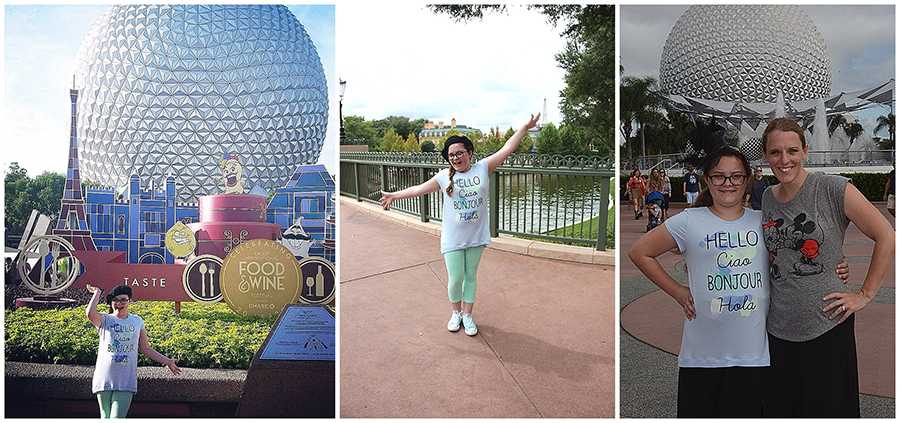 Eric, the GM of the culinary team in France greeted my mom and me first thing in the morning and treated us to breakfast. (oh boy did he treat us!) He kissed me on both cheeks when I met him and told us that's how French people greet each other and I didn't care anymore that it was a gloomy rainy day. I was in FRANCE and it was perfect! (well, I was in Disney's version of France, but it was still perfect!)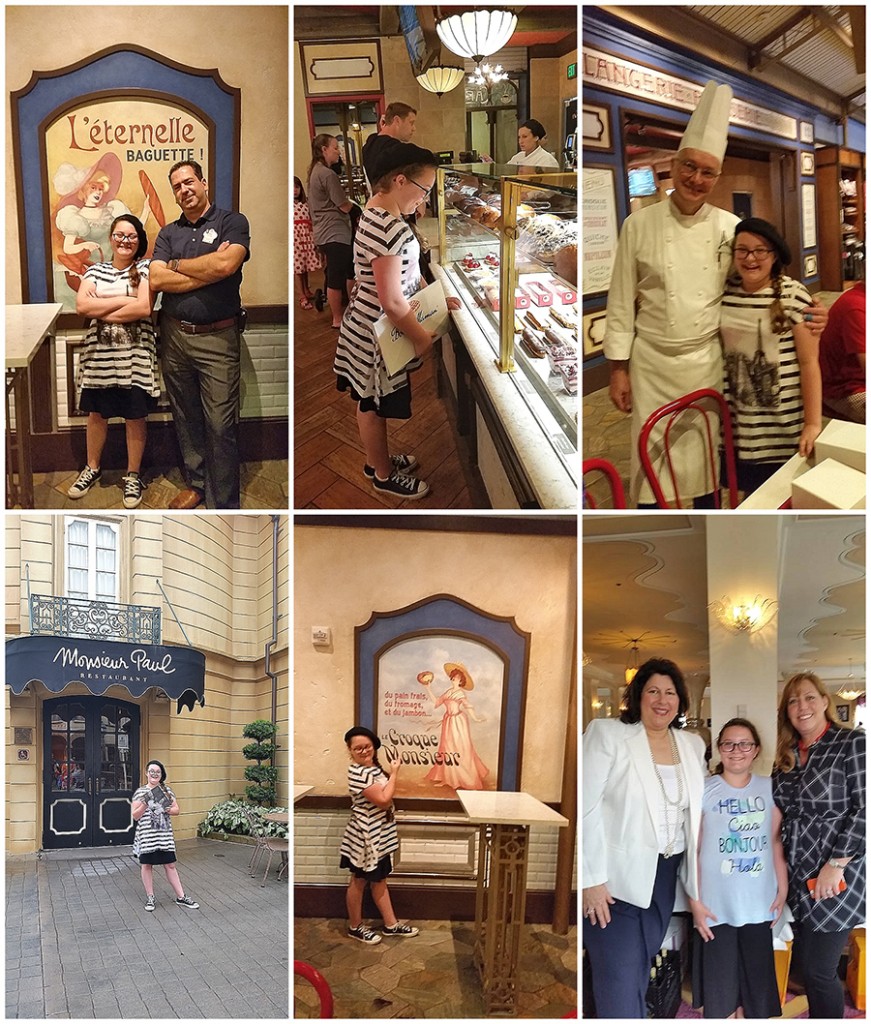 We sampled many items, but I loved the savory Tartine aux Fromage. I want to go back and have another one another for breakfast (Why is Epcot so far from Indy?! The salty gruyere cheese and the creamy sweet goat cheese with the earthy rosemary herbs on the flaky pastry were such a wonderful breakfast. My mom had a brioche with chocolate and almond creme! She barely allowed me to sample a bite, but we both indulged in the largest meringue I have ever seen. I was about as big as a child sized football. The pastry chefs then dip half of it in chocolate, and it's equal parts breakfast and desserts and all parts sinful! We didn't only eat it for breakfast. We nibbled on it all morning with help from the entire family.
Eric also talked to me about two chefs. One who helped inspire me, and one who inspires all French Chefs. Julia Child once came to Disney (during Food and Wine Festival) and he told me the story of when she came to Epcot and toured around the park with her escort Chef Paul. (Eric's and France's leading culinary icon) Monsier Paul Bocuse is considered the leading French chef in the world and the restaurant in Epcot is named after him. (he event shares my birthday!!!) I wish I was alive when Julia Child came to Disney World with Chef Paul – WOW! Eric then gave me a wonderful gift, a book of Chef Paul's life and recipes! Merci! Afterward he introduced me to the Executive Chef. I told him I was looking forward to enjoying dinner with him that night in the restaurant!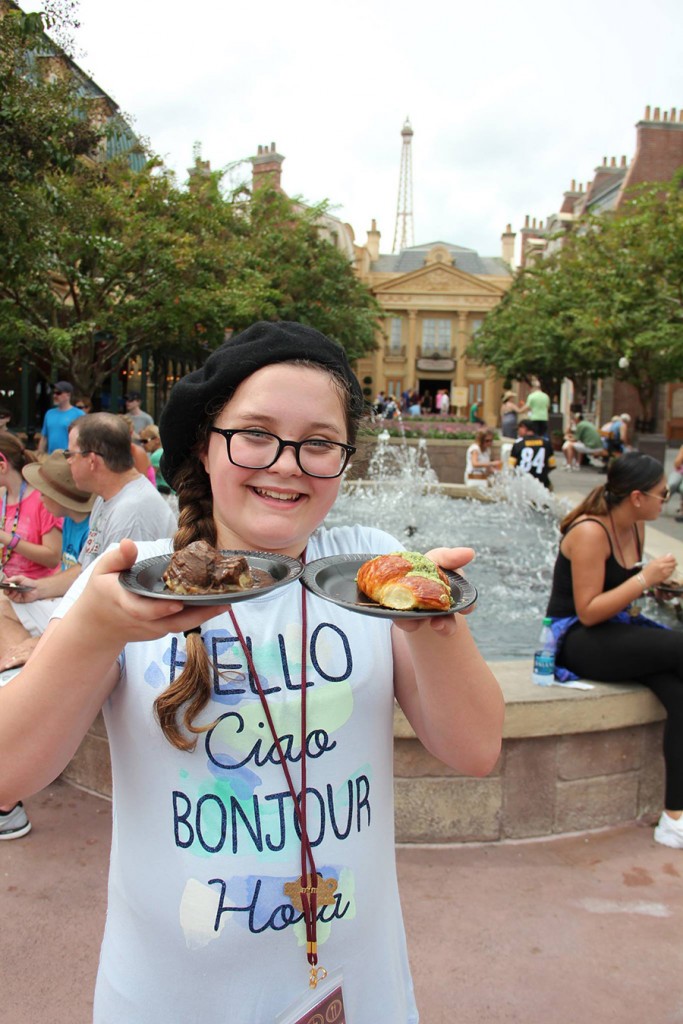 In the afternoon I tried a sampling of their items from a special menu (for Food and Wine Festival). The croissant aux escargot with garlic and my iconic dish – Boeuf Bourguignon (and being recognized by some fans in the park — this was the first, but not the last time this would happen in the park, but it did make me giggle that I was getting Boeuf Bourguignon when it happened). I couldn't wait to return for dinner.

That night we ate dinner in Chefs de France and everyone sampled each other's plates (because the decisions were SO tough). I loved my mom's Gratin de Macaroni. It was so creamy and delicious (and certainly not an average mac and cheese by any means) My dad's Plat de côtes de boeuf au Cabernet (Beef Short Ribs) were so tender and the sauce was rich and meaty. My dinner, the salmon in a buerre blanc was exactly was I imagined: light, lemony, buttery and tangy. Perfect. Since I started with French Onion Soup I was soooo full and barely had room for the dessert, but it was included with my prix fix meal. The chocolate mouse was light and airy and I loved it. Illuminations was going on outside the windows and I enjoyed the music while we ate the entrees.
One of the days in Epcot my mom, Grandma and I enjoyed a special event called French Family Traditions. It was a special 5 course meal in Monsier Paul Restaurant. Eric was the host of this event and right away made me feel so special! Two of the guests were from the corporate offices of Le Creuset and he introduced me to them! I got to meet the Director of Marketing from Le Creuset and take my picture with them. What a FUN job they must have (I can't imagine what their kitchens must look like!!!) They were there because the event was sponsored by them and the entrée course as served in a cocette!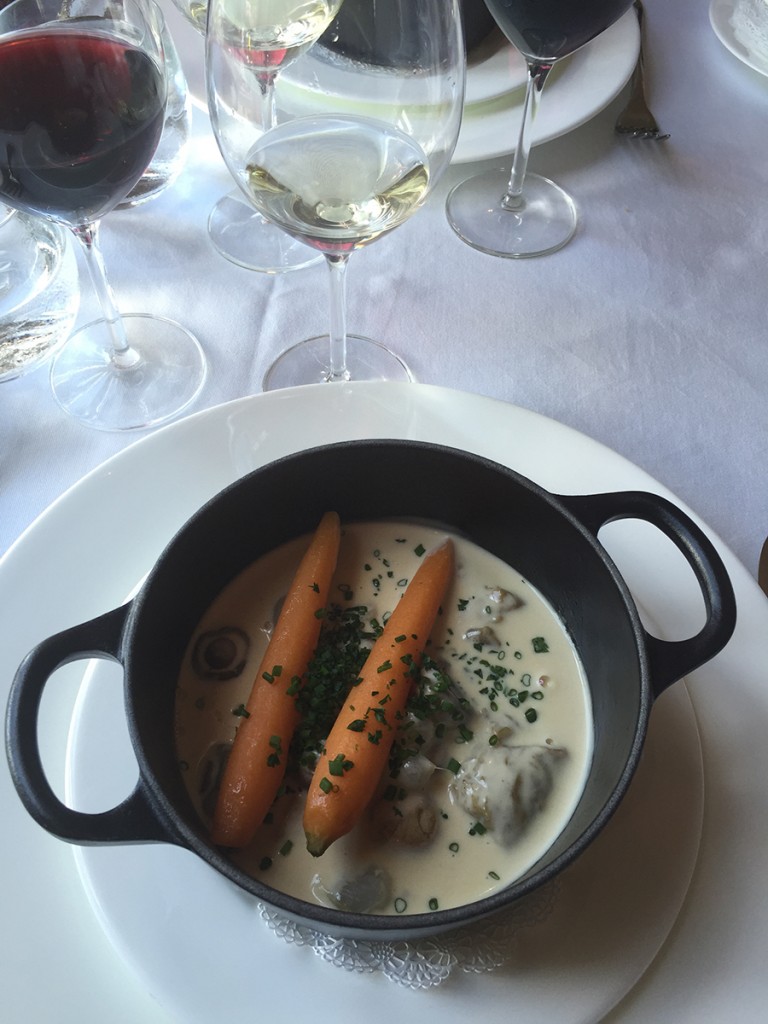 Here's the menu we were served
Aperitif
Allumette au fromage (cheese stick)
Cocktail Le Presse (Grand Marnier Titanium, lemon juice, simple syrup, raspberries, sparkling wine)
Hors d'Oeuvre
Quiche Lorraine
Traditional Quiche Lorraine with Ham & Cheese
Vouvray, Val de Loire 2014
Plat de resistance
Blanquette de veau en cocotte Le Creuset
White veal ragout served with rice, carrots, mushrooms & baby onions
Chinon, Le Haut de Presle, Marquis de Goulaine, 2014
Fromage
Bordeaux, Cabernet Sauvignon, Chateau de Ricaud 2012
Dessert
Macaron a l'ancienne
Light almond macaron, bitter chocolate mousse, vanilla & chocolate sauce, hazelnut ice cream
Cremant de Bourgogne, JCB21, N.V.
The entire experience was one of the best dining experiences I have ever had, and the entrée (the Plat de resistance) was one best foods I have ever tasted. I didn't want the (enormous) cocotte of creamy, rich wine sauce and succulent veal to ever end. (Eventually I was so full I couldn't finish – I don't know if anyone did.) After dessert (and before Eric handed out the goodie bags, he introduced me to the entire restaurant! I was so surprised and he joked that someday I would work there. That's my dream!!)
The luncheon took 3 hours, and I was sad when it ended. Eric took me over to their ice cream shop for dessert. (I JUST ATE!) Their ice cream is famous because they serve it on macarons because Eric felt badly I couldn't have the wine. I only had a cup of chocolate, but every time I see a photo of the macarons on Instagram I think about how it was the most decadent chocolate ice cream I've ever tasted. (Instagram = @artisandesglace and Twitter @ArtisandesGlace)
He's really active on both! And the photos of their culinary team in action will make your hungry. If you ever go to Epcot, you MUST stop in!
My time in Epcot was a very special and celebratory time with my family. It was so much to fun to enjoy time there celebrating my experience on Food Network and being there during Food and Wine Festival. My time in the France pavilion was really unique and I learned so much just from eating, talking to the culinary team and meeting so many influential people. I feel really at home when I'm in France. I wore a beret in the parks, and I even bought Parisian inspired Mickey ears. Someday I will get to France, and until then, I will get to Epcot and go visit my friends. Eric taught me a saying A Bientot. – "see you soon" – yes, you will!